Our Staff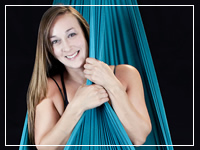 Crista
has been active in sports and fitness since she was a child. In school, she played soccer and softball. She was in gymnastics, dance and was also on the swim team at her grandparents swim club. She loved riding her bike, rollerblading, rollerskating and playing sports with the neighborhood kids. Crista joined her first gym at age 16 and fitness and wellness has been a part of her life ever since.
Crista has over 8 years experience as a fitness and wellness professional. She is passionate about helping others achieve a healthy lifestyle and making the changes necessary to attain their goals. Crista is a graduate from The National Personal Training Institute where she studied strength conditioning and nutrition. She is certified in Hardstyle Kettlebells HKC, VaihAyasa aerial yoga level l and level ll, Integral Yoga Alliance and AFFA group fitness certified. Crista's programs are safe and effective providing you with results and helping you to reach your full potential.


Leyna received her 200 hour certification at Yogasphere in traditional Vinyasa Flow Yoga by mentors and co-owners Laura Rothstein and Elle Kaplan. Licensed and certified in VaihAyasa Aerial Yoga by creator and owner Heather Shafer at Kaya Aerial Yoga in Philadelphia. She has dedicated her life in service of helping others cultivate the power to heal their lives through yoga, spiritual practice, wellness coaching, holistic nutrition and by sharing her life experience and knowledge.

Passionate about living a healthy life balancing teaching yoga, motherhood and personal spiritual practice while being a positive example to others. She is working toward being the first instructor to introduce Aerial Yoga to the Jersey shore summer of 2012. Leyna enjoys yoga, surfing, cooking, and caring for her two beautiful daughters Pomona and Finula.